CAGP/CCSMH 2022 Vision Award Recipient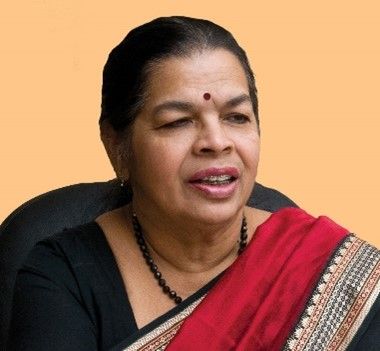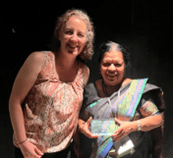 Dr. Parvathy Kanthasamy
Whether it is participating in research projects or co-founding Vasantham—A Tamil Wellness Centre in Toronto, Dr. Kanthasamy has devoted her career to supporting the mental health of older immigrants in Canada, especially within the Tamil community.  Over 25 years with Vasantham, Dr. Kanthasamy has successfully identified the needs among the older immigrant clients of the Centre and found solutions by building partnerships and seeking grants.  Through her leadership and example, she has inspired and mentored others. Her dedication and commitment has shone a light on many issues faced by immigrant seniors, especially the impact of elder abuse and isolation and loneliness.
First image:     Dr. Parvathy Kanthasamy (photo provided by Dr. Kanthasamy)
Second image:     At awards nights, Claire Checkland (CCSMH Executive Director) and Dr. Parvathy Kanthasamy (photo provided by Dr. Kanthasamy)
CAGP/CCSMH Seniors' Mental Health Outstanding Care and Integrative Practice Award Recipient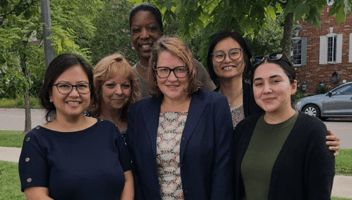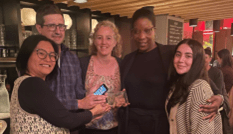 LOFT Community Services -- Integrated Psychogeriatric Outreach Program (IPOP)
LOFT Community Services is located in York Region and the South Simcoe area of Ontario. According to their nomination letter, LOFT's Integrated Psychogeriatric Outreach Program is "an innovative, community-based program that supports seniors, and their care partners, who are experiencing a new and/or functional decline related to mental health, substance use or dementia-related challenges." Through an interprofessional and interdisciplinary team, IPOP serves about 300 individuals each year with the goal of helping "them live in their own homes and communities with respect and dignity, foster[ing] independence and improv[ing] quality of life." IPOP credits its success in part to the use of technology via the Ontario Telemedicine Network, key partnerships with CMHA and a community of practice. IPOP would also like to acknowledge and thank Dr. Vanessa Thoo and Dr. Selmi Asmer, the Geriatric Psychiatrists who support the IPOP team and their clients.
First image:     The IPOP Team (photo provided by IPOP)
Back (l to r):  Suzanne Saulnier, Andrea Thomas, Sophia Ho
Front (l to r): Hazel Desamito-Kathuria, Tamara Oomen, Sarah Ehsan
Second image:     At awards night, Sophia Ho, Dr. Dallas Seitz (CCSMH Co-chair), Claire Checkland (CCSMH Executive Director), Andrea Thomas, Sarah Ehsan