Cannabis and Older Adults
Asynchronous eLearning
11 individually accredited modules
(MOC and MainPro+)
No cost to learners

For physicians, nurse practitioners, pharmacists, nurses, other healthcare providers and healthcare students
Thank you for your interest in the Cannabis and Older Adults eLearning Modules, developed by the Canadian Coalition for Seniors' Mental Health in partnership with Baycrest.
CCSMH received muti-year funding from Health Canada to develop MOC and MainPro+ accredited evidence-based e-learning modules and knowledge translation tools for physicians, other health providers and healthcare students. The goal of the project was to help increase clinician knowledge and skills regarding cannabis and older adults. The Scientific Planning Committee, comprised of academics and physicians from across Canada, developed the e-learning module content based on key principles of adult learning and collaborative instructional design with the support of an e-learning specialist. The modules are free and asynchronous, and participants can choose which modules they wish to take.
We began the process with a review of the scientific literature and a needs assessment survey so the information needs of the target audiences could be incorporated into the education content.  Over 1500 individuals across Canada responded to the survey including 195 Physicians, 43 Nurse Practitioners, over 500 other healthcare providers and 686 older adults. Some highlights of the survey include:
89% of physicians and nurse practitioners reported they are aware of older adults in their practice using cannabis but only 39% felt that they had sufficient knowledge to address older patients and their caregivers' questions about cannabis
41% of older adults responded that their healthcare provider was not able to answer their questions on cannabis
Anxiety, pain and insomnia are the most common reasons that older adults reported using cannabis
The modules are each 30-45 minutes in length and available in English and French. Topics include the evidence for cannabis and older adults, adverse effects, dosing and how to communicate with patients. A Clinician Toolkit has also been developed, in addition to Info Sheets for older adults.
Examples of clinician topics include:
Assessing Appropriateness of Cannabis Use for Older Adults
Optimizing Communication with Older Adults About Cannabis
Monitoring for Potential Adverse Effects of Cannabis Among Older Adults
This series of 11 individually accredited modules (MOC and Main Pro+) can be accessed through Baycrest's Learning Management System. To create an account and register for the English modules, please carefully read the instructions below and then press the "CLICK HERE to Register" button.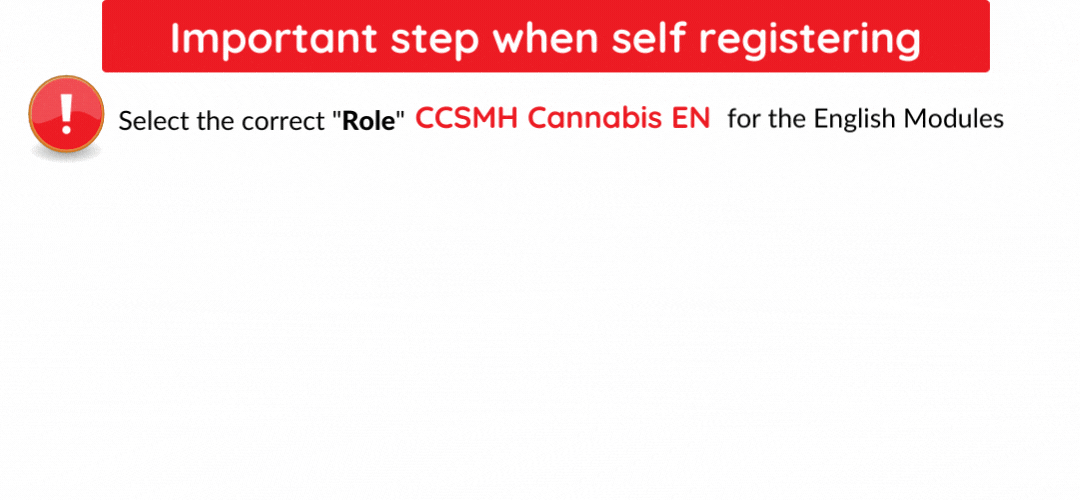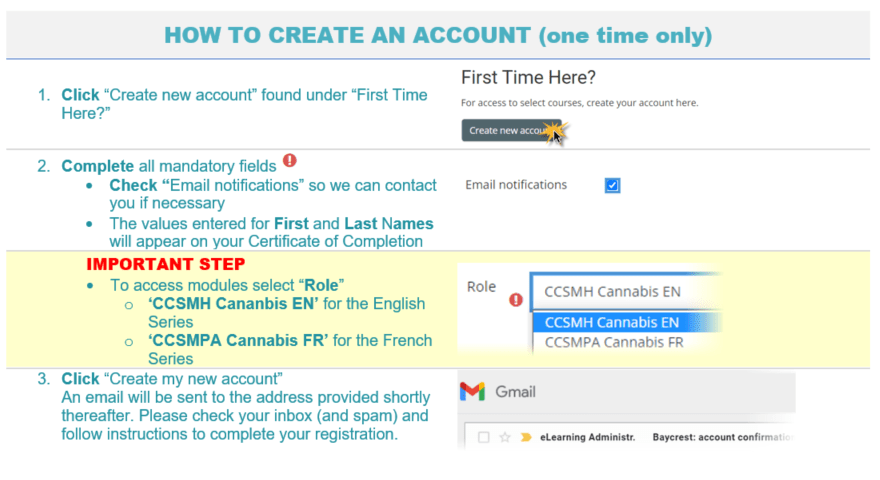 For technical questions please email eLearning@baycrest.org, the team will endeavor to respond to you within 1-2 business days.
For questions regarding content of the modules, please contact the Canadian Coalition for Seniors' Mental Health at: info@ccsmh.ca
Module topics:
| | | |
| --- | --- | --- |
| | Module Title | Credits / Hours |
| 1. | The reality of cannabis use in older adults | 0.5 |
| 2a. | The history of cannabis and the current status of Canadian cannabis legalization and policies | 0.5 |
| 2b. | Regulations, provincial/territorial guidelines and medico-legal considerations for clinicians | 0.5 |
| 3. | Cannabis and cannabinoid neuropharmacology and drug interactions | 0.75 |
| 4. | Cannabis plant science, cannabinoids, and difficulties in cannabis research | 0.5 |
| 5. | Evidence for Cannabis as Treatment | 0.5 |
| 6. | Pharmaceutical cannabinoids, modes of cannabis use, dosing and accessing cannabis | 1.0 |
| 7a. | Adverse effects and special considerations for safety | 0.5 |
| 7b. | Safer cannabis use, harm reduction and cannabis use disorder | 0.5 |
| 8. | Collaborative, patient-centered care and communication strategies | 0.75 |
| 9. | Developing a treatment plan and case studies | 0.75 |
Welcome from CCSMH Co-Chairs
In primary care, questions are frequently raised about cannabis use for older adults as a treatment option for various conditions. The e-learning modules on 'Cannabis use in Older Adults' are extremely useful for all clinicians to increase their level of knowledge and confidence about clinically relevant aspects of cannabis. Providers will be more comfortable answering questions about cannabis with their older patients. I highly recommend the modules to all clinicians to help them better manage their older adult patients with complex clinical needs.
Kiran Rabheru MD, CCFP, FRCP, DABPN
Co-Chair CCSMH
Geriatric Psychiatrist, The Ottawa Hospital
Professor of Psychiatry, University of Ottawa
Cannabis consumption among older adults has been accelerating at a much faster pace than other age groups. Healthcare providers have also reported a gap in knowledge which is why CCSMH has developed the Cannabis and Older Adults e-Learning modules to aid physicians, nurse practitioners, other healthcare providers and healthcare students increase their knowledge and confidence in discussing cannabis with their older patients. The modules are asynchronous and individually accredited, allowing the learner to complete them when convenient and to choose the content that is relevant to their needs.
David Conn, MB, FRCPC
Co-Chair CCSMH,
Vice-President of Education, Baycrest
Professor, Dept of Psychiatry, University of Toronto
eLearning Overview by Dr. David Conn
Invitation to Healthcare Students to register for eLearning by Victoria Grandi, MD Candidate (2024)
CCSMH has convened a Scientific Planning Committee to oversee the development of e-learning modules targeting physicians, nurse practitioners, other healthcare providers and healthcare students.
This event is an Accredited Self-Assessment Program (Section 3) as defined by the Maintenance of Certification Program of the Royal College of Physicians and Surgeons of Canada, and approved by the University of Ottawa's Office of Continuing Professional Development. You may claim a maximum of 6.75 hours (credits are automatically calculated).
This one-credit-per-hour Group Learning program meets the certification criteria of the College of Family Physicians of Canada and has been certified by the University of Ottawa's Office of Continuing Professional Development for up to 6.75 Mainpro+ credits.
In partnership with
Funding for this Project was provided by Health Canada (Substance Use and Addictions Program).

CCSMH has developed several resources on the topic of Cannabis and Older Adults – click the links below to access.